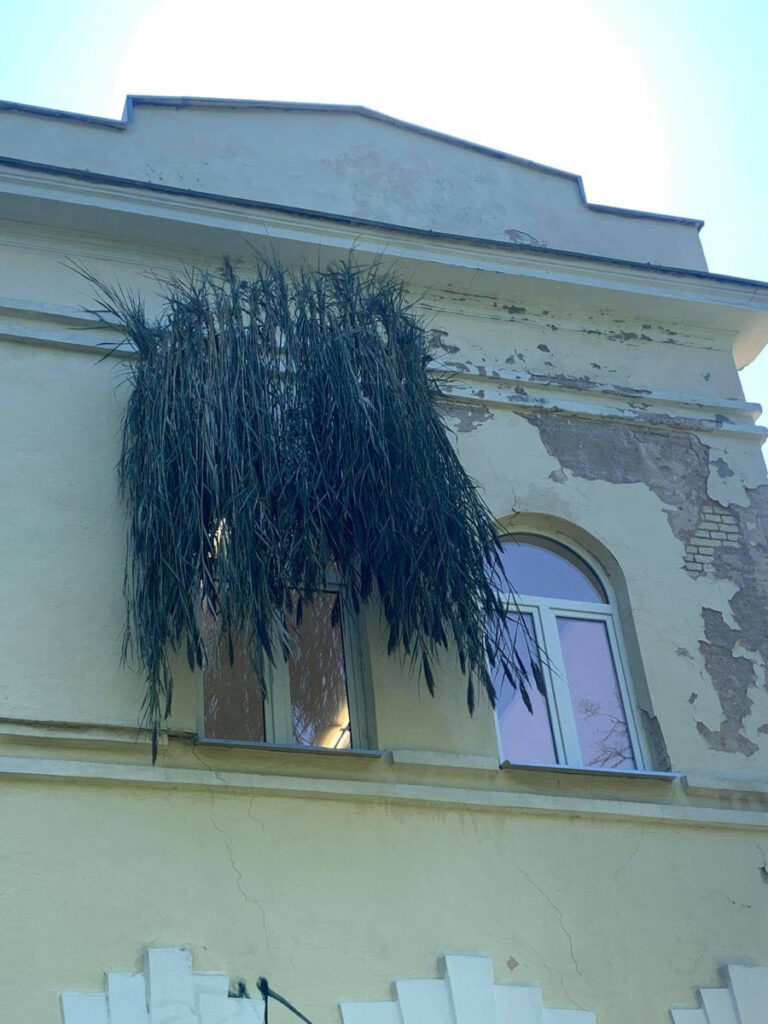 Martin Ebner, 11:11
grass curtain for facade / Swallow, Vilnius, 2020
The work consists of several long bunches of locally grown sweetgrass, suspended from a metal ring structure outside in ten meters height on the facade of the building where Swallow art space is located. While the fresh cut grass leaves are drying in the weeks after the opening, and changing their colour from green to yellow, the installation emits a distinct and pleasant scent, possibly to be percieved even from within the exhibition. At the same time it will constantly be exposed and reacting to the current wind situation around the house, sometimes appearing turbulent and exaggerated, sometimes calm and barely moving.
Sunlight will pass through the moving leaves and animate the floor and walls inside. At darker, calmer days the grass will dim the outside light and create a transparent threshold, with the possibility to be put aside and opened like a curtain.
It is a temporary work, not intended to stay permanently. Decay is part of its conception. It will decompose and probably vanish into the surrounding throughout the course of the year. The labour involved is dedicated to this transition, and, as barely measurable it may be, to the affect which is connected to the recognition of the presence, shift or loss of life, and memory.