STARSHIP SCREENINGS AT THE POOL
Please join us for a summerly afternoon screening in Berlin:
The Time is Now
Videos by Heidrun Holzfeind
Sunday, 18.8.2019, 4pm
TROPEZ im Sommerbad Humboldthain
Wiesenstraße 1, 13357 Berlin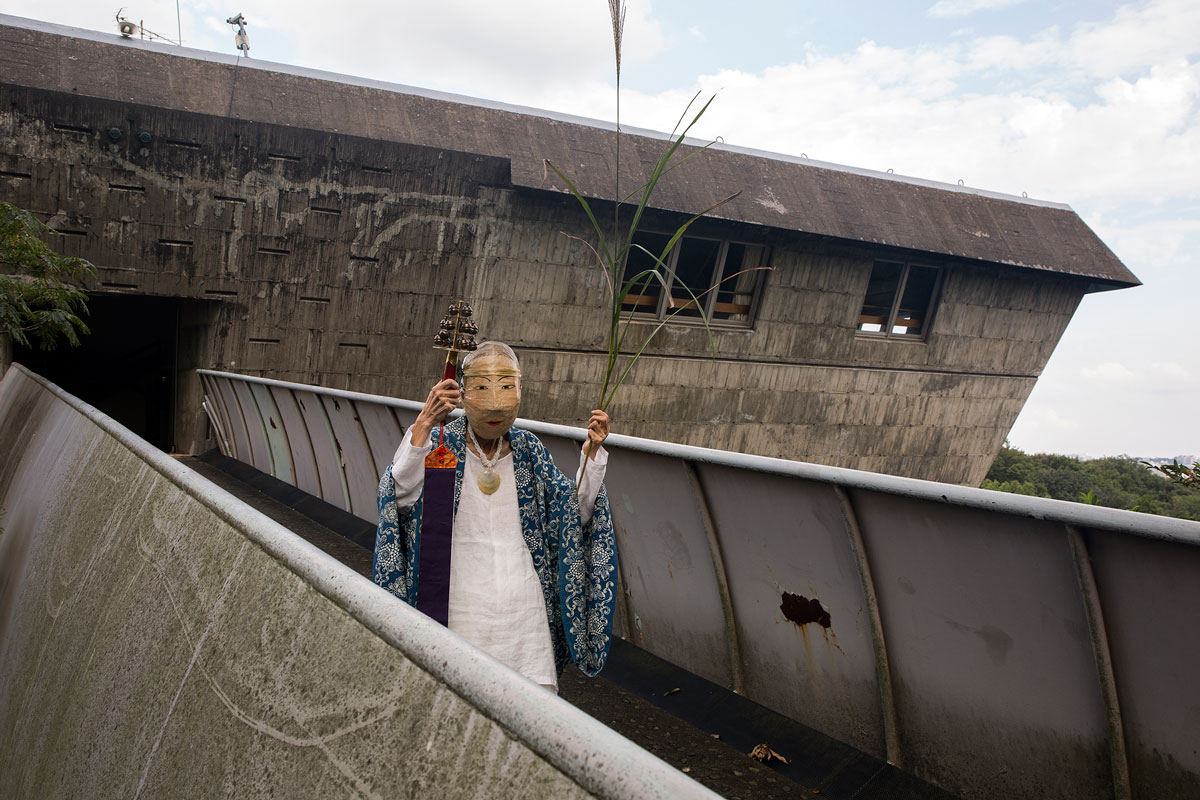 Both films feature the Japanese shamanic improvisation duo IRO (Toshio and Shizuko Orimo). The couple has worked together since 1981. IRO's music combines influences from punk, 1970s Free Jazz, ethnic music, ancient Shinto rituals, and indigenous ceremonies. For Heidrun Holzfeind's videos the duo performed in various locations of the Inter-University Seminar House in the Tokyo suburb of Hachioji designed by Japanese architect and thinker Takamasa Yosizaka. Yosizaka's ideas about the relationship between humans, nature and architecture, individuality and community, sustainability and peace, as well as his critique of Western civilization in many respects concur with the couple's animist and pantheist weltanschauung. Their musical experimentation goes hand in hand with their activist involvement in the peace and anti-nuclear movement and a free-spirited way of life that vehemently rejects commercialism in all its forms.
Heidrun Holzfeind is an artist and filmmaker interested in how architecture interacts with people's everyday life. She questions immanent architectural and social utopias, exploring the interrelations between history and identity, individual histories and political narratives of the present.

TROPEZ is a space for art inside the public pool Sommerbad Humboldthain initiated by Nele Heinevetter.
With: Gili Avissar, Kira Bunse, Natalie Czech, Constant Dullaart, Julie Favreau, Bertrand Flanet, Richard Frater, Das Helmi & BFF's, Luzie Meyer, Hayal Pozanti, Dylan Spencer-Davidson, Michael Sports, Elisabeth Wood & TAWG, Young Boy Dancing Group as well as BDPs reading series Literature at TROPEZ, Creamcake's discussion and concert-format Europool, Starship's Screenings At The Pool, and performances by Christian Naujoks, Peter Cant and Krzysztof Honowski invited by Clara Meister and Clare Molloy, and the children's programme 1,2,3 SOLEIL.