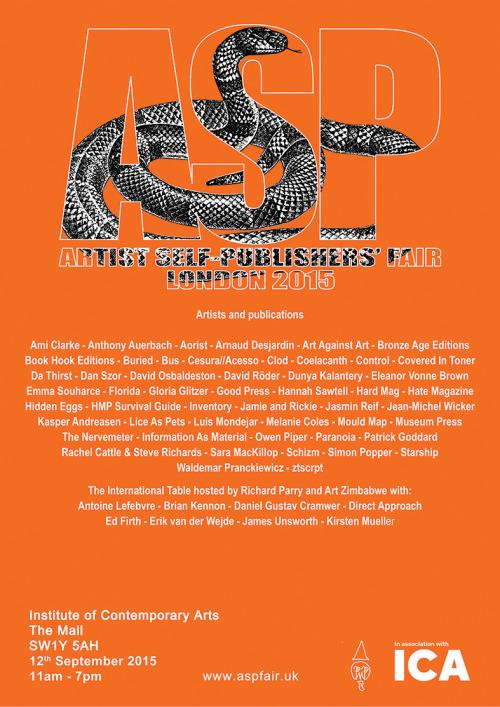 The Artist Self-Publishers' (ASP) Fair will launch at the Institute of Contemporary Arts London on the 12th September 2015.
50 plus UK and international independent artists self-publishers will to join together for a one day fair.
The publications are the art works; affordable and available, yet without the fetter of the institution or gallery, the ideas images and text are produced and published by artists who understand the restrictions and freedoms of the printed page.
In contrast to the growing number of 'opportunities', this fair is strictly for artist self-publishers only. This fair seeks to celebrate and promote their work. With the generous help of the ICA London, ASP will avoid the restrictions of the commercialisation bias common to too much of contemporary arts culture.

Artists and publications
Ami Clarke – Anthony Auerbach – Aorist – Arnaud Desjardin – Bronze Age Editions – Buried – Bus-Editions – Cesura//Acesso – Clod – Coelacanth – Control – Covered In Toner – Da Thirst – Dan Szor – David Osbaldeston – David Röder – Dunya Kalantery – Eleanor Vonne Brown – Emma Souharce – Florida – Gloria Glitzer – Good Press – Hannah Sawtell – Hard Mag – Hate Magazine – Hidden Eggs – HMP Survival Guide – Inventory – Jamie and Rickie – Jasmin Reif – Kasper Andreasen – Lice As Pets – Luis Mondejar – Art Against Art – Melanie Coles – Mould Map – Museum Press – The Nervemeter – Information As Material – Owen Piper – Paranoia –
Patrick Goddard – Rachel Cattle & Steve Richards – Rachel Simikover – Sara MacKillop – Schizm – Simon Popper – Starship – Waldemar Pranckiewicz – ztscrpt
+ The International Table hosted by Richard Parry with Art Zimbabwe