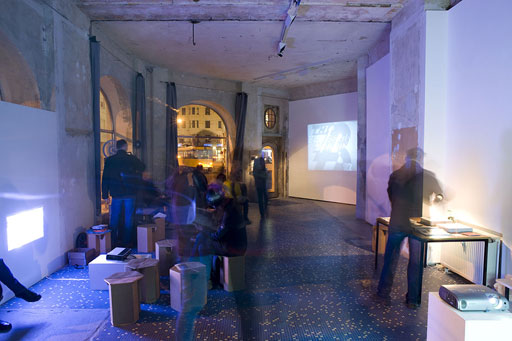 d21 Kunstraum Leipzig
December 16, 2011
Poor Man's Expression
Florian Zeyfang and Martin Ebner: installation and screenings
with 16mm films from the archive of Arsenal – Institut für Film und Videokunst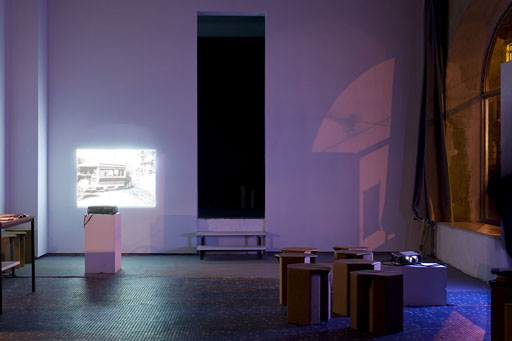 – as part of a minifestival on experimental film organised by Leif Magne Tangen
in collaboration with Rike Frank and Studio International – Galerie der HGB Leipzig
(room views: Michael Moser)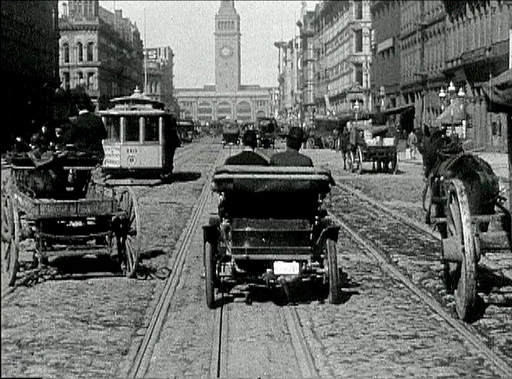 Miles Brothers
A Trip Down Market Street Before The Fire
Film, b/w, silent, 12 min., 1906
Produced as part of the popular Hale's Tours of the World film series, the film begins at the location of the Miles Brothers film studio, 1139 Market Street, San Francisco, between 8th and 9th Streets; it was filmed 14 April 1906, four days before the devastating earthquake and fire of 18 April 1906, which virtually destroyed the entire downtown area. The negative was taken by train to the Miles New York office on 17 April 1906, narrowly saving it from destruction by one day and thus preserving a moment in the history of San Francisco that would soon cease to exist.
(IMDB, The Internet Movie Database)
Ernie Gehr
Eureka
16mm film, 31 min., b/w, silent, 1974/79
Using the example of a found film from 1906, a single tracking shot slowly moving up San Francisco's Market Street, Ernie Gehr, applying the simple devices of reprinting and slow motion, reveals what film was, or perhaps what it might have continued to become: a steady progression towards a constantly changing and highly complex structure of the representation of reality.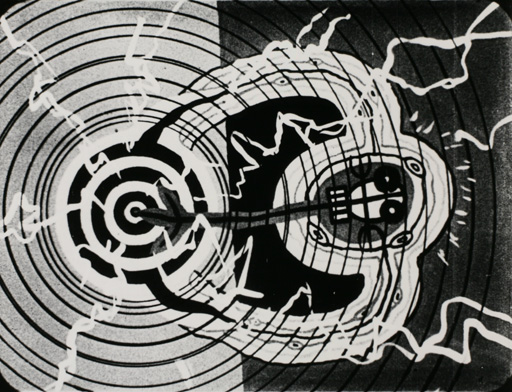 Len Lye
Tusalava
16mm, b/w, silent, 7 min, 1928
The concepts of Direct Film have been closely associated with the name of Len Lye ever since he began, in the early 1930s, to draw, paint, and scratch on the film stock.
"The least boring person who ever lived" (Alistair Reid), Lye was born in New Zealand in 1901. He briefly studied at the Wellington Technical Institute, then traveled the South Seas and worked as a quarry and building laborer, a carpenter's mate, a packer, a miner, a rail layer, as well as a farm hand before becoming an artist, filmmaker, kinetic sculptor, and writer. His films reflect his fascination for scientific research as well as his interest in the art of Maori, Australian Aboriginal, Pacific Island, and African cultures.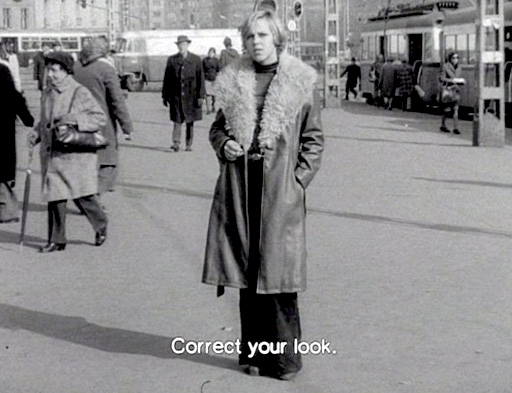 Tibor Hajas
Self Fashion Show
16mm, b/w, audio, 15 min., 1976
Self Fashion Show is a conceptual film produced in the Béla Balàzs Studios in Hungary. In a simple and efficient way, it shows and opens up what Benjamin called the collective image sphere, which one could compare to the symbolic order, broadened to the perceptions of the body and psychology, or also with the social imaginary, which represents a sort of map of the world, including collective conceptions as much as gestures and everyday operations. Central to all these terms is that they include an element antecedent to any positivistic order, that one could paraphrase as "the social implicit," and that is more likely to be found in motor functions and habits, or also in relationships of empathy, than in explicit language and what is negotiable in social terms.
(Anselm Franke, Tilting in the Image-Space of Social and Technological Worlds, in: Poor Man's Expression )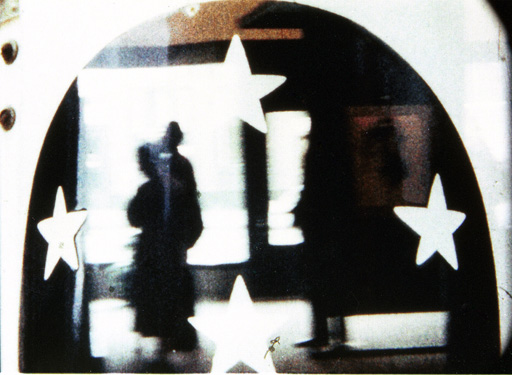 Bruce Conner
Looking for Mushrooms
16 mm, colour, audio, 14 min., 1959-67 / 96
Looking for Mushrooms is a highly condensed whirl of images full of visual information, composed of rich colors and extreme contrasts. In the slower, second version, created thirty years after the first, Bruce Conner uses Terry Riley's Poppy Nogood and the Phantom Band as a soundtrack. Here, we see even more: each individual frame has been duplicated five times, and the repetitive music is abstract and serious, yet also exuberant and rousing.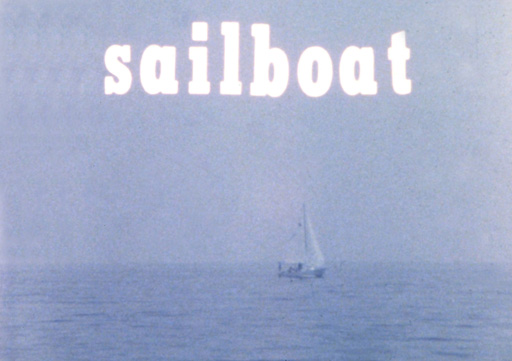 Joyce Wieland
Sailboat
16mm, Farbe, 3 min., 1968
"This little Sailboat film will sail right through your gate and into your heart." (Joyce Wieland)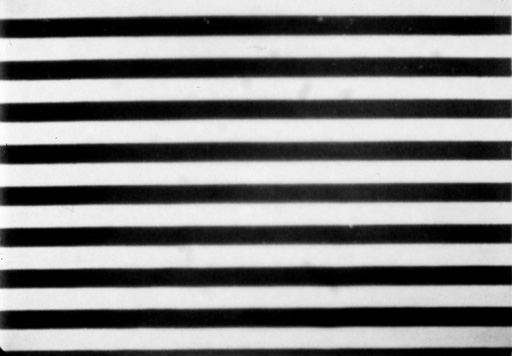 Tony and Beverly Conrad
Straight and Narrow
16mm, b/w, audio, 10 min., 1970