Berlin Art Film Festival 2015
ON ARCHITECTURE
Screening: Dec 13, 2015, 4pm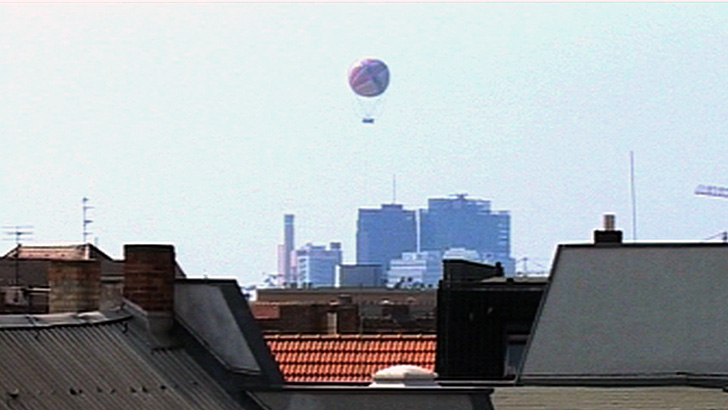 NULLPANORAMA

This short film is based on the assumption that horizon and sky exist as "psychic" things in every human being, and contain immeasurable high, deep, wide, full or empty dimensions. A corporate logo may strongly disturb this connection – but sometimes is only loosely attached. (Martin Ebner)
Martin Ebner, D 2003, 1 min
cinematography: Martin Ebner
language: no dialogue

COLOURETTE (FÄRBLEIN)

Faint yellows passing into gray, faded blues and worn-out reds, tender grays of all shades on fences, balconies, petrol stations, tramways; all come together to compose a short poem on the colours of the former GDR. (Renate Sami)
Berlin filmmakers Bärbel Freund and Rainer Bellenbaum's FÄRBLEIN is a gorgeous colour study of faint yellows, faded blues, light greens, and worn-out reds. A document of a world on the brink of change, FÄRBLEIN is a visual poem, made just after the reunification of Germany, dedicated to the specific colour palette and architectural styles of apartment buildings, petrol stations, and tramways of the former German Democratic Republic. (Susan Oxtoby, Cinematheque Ontario)
Bärbel Freund/ Rainer Bellenbaum, D 1992, 21 min
cinematography: Bärbel Freund, Rainer Bellenbaum
language: no sound
guests: Bärbel Freund, Rainer Bellenbaum
ON THE MARGINS (AM RAND)
After the wall that divided Berlin came down, Thomas Arslan took his camera and went to the former margins of West Berlin: Neukölln/ Treptow, Moabit/Mitte, Wedding/ Prenzlauer Berg, Märkisches Viertel/ Wilhelmsruh. Shot in November and December of 1990, Arslan left his camera immobile and created some photographic portraits of bleak winter landscapes under construction. This simple concept guaranteed the cinematic preservation of urban spaces that have long gone or changed beyond recognition. ON THE MARGINS is an early documentary work of a filmmaker who would later become a prolific auteur of German arthouse cinema.
Sound: Christian Petzold.
Thomas Arslan, D 1991, 24 min
cinematography: Thomas Arslan
language: no dialogue
guest: Thomas Arslan
FRAMING (BILDFENSTER/ FENSTERBILDER)
The single frames of 8 mm films are compared with windows in building facades of a city.
Various photo, video and film materials were collected and modified in a graphic way. This found footage was mounted like a collage and combined with the music of Franz Schubert.
 (German films)
Bert Gottschalk, D 2007, 6 min
cinematography: Bert Gottschalk and others
language: no dialogue
guest: Bert Gottschalk
SOPHIE CHARLOTTE BUILT IN 2013
(SOPHIE CHARLOTTE BAUJAHR 2013)
Something is happening in Mitte and we can watch it in fast motion. "Sophie Charlotte", a common name for the children of former party-people-turned-petit bourgeois, Biedermeier parents of Prenzlauer Berg, is born in 2013. But wait – this particular Sophie Charlotte is growing too fast, blocking the sun, blocking the view of director Bert Gottschalk's apartment. She is filling a gap, of which there are few left in Berlin nowadays – which is a shame. An art project in motion and animation.
Bert Gottschalk, D 2014, 10 min
cinematography:
 Bert Gottschalk
language: no dialogue
guest: Bert Gottschalk
MY BARRIO
The video is the first in a series of videos about changes in urban culture and was filmed in the former eastern part of Berlin during the summer of 2004. Privatising public spaces is undermining the social structure of cities. The function of the architecture shown in "My Barrio" is to represent economic rather than social interests. Only a single man is walking through these artificial fake-public spaces, where he appears like a foreign body, conveying the frightening size of the project and the anti-humanistic concept inherent in this architecture. Through sound design, Christian Obermaier foregrounds the lost quality of the figure in places, sometimes stressing and caricaturing the architectonic spatial structure.
 (Niklas Goldbach)
Niklas Goldbach, D 2005, 19 min
cinematography: Niklas Goldbach
with: Elmar Vestner
language: no dialogue