On Sunday January 13. 2019, please feel invited to the release of Starship No. 18, and twenty years of Starship.
With the magazine freshly back from print we host a release party with films, artwork, and music connected to this issue at VERY, an exhibition venue in Berlin, Wedding.
Sonntag, den 13.1.2019, zum Erscheinen des 18. Starship Magazins und gleichzeitig der Feier des zwanzigjährigen Bestehens von Starship veranstalten wir eine Party mit Filmen, Kunst und Musik rund um diese Ausgabe der Zeitschrift in VERY, einem Ausstellungsort in Berlin, Wedding. Wir laden dazu herzlich ein.
VERY
Starship Release: 13.1. 2019 16:00 -21:00
Badstraße 66, Hinterhof
13357 Berlin
Videoarbeiten von Klara Liden, Calla Henkel & Max Pitegoff, Michele di Menna und Martin Ebner
Eric D. Clark präsentiert die EP "Musix' Lost Its Colour" (2018) und das Musikvideo zum Track von Martin Ebner.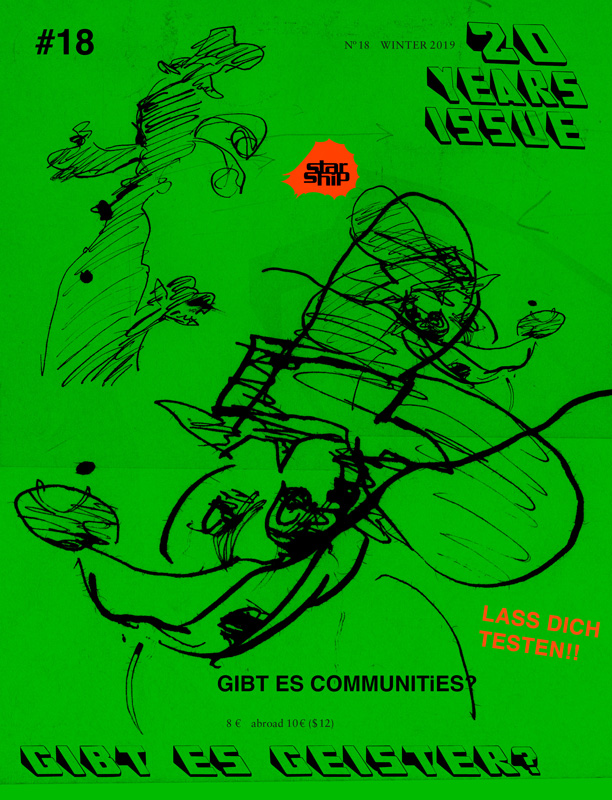 Starship No. 18: 148 pages, color, English/German, 8 €, abroad 10 € ($ 12)

"Gibt es Communities? Gibt es Geister? Lass dich testen!"
Contributors to Starship No. 18:
Ei Arakawa, Tenzing Barshee, John Beeson, Gerry Bibby, David Bussel, Eric D. Clark, Sarah Chow, Jay Chung, Hans-Christian Dany, Timothy Davies, Nikola Dietrich, Martin Ebner, Stephanie Fezer, Christian Flamm, Simone Gilges, Julian Göthe, Martin Guttmann, Richard Hawkins, Calla Henkel, Toni Hildebrandt, Karl Holmqvist, Lisa Holzer, Stephan Janitzky, Jakob Kolding, Lars Bang Larsen, Klara Liden, Carla Lonzi, Sebastian Lütgert, Robert Meijer, Michele di Menna, Ariane Müller, Christopher Müller, Robert M. Ochshorn, Henrik Olesen, Max Pitegoff, Puppies Puppies, Gunter Reski, Mark von Schlegell, Max Schmidtlein, Vera Tollmann, Voin de Voin, Adrian Williams, Amelie von Wulffen, Florian Zeyfang
Editors: Gerry Bibby, Nikola Dietrich, Martin Ebner, Ariane Müller, Henrik Olesen
—
VERY is a temporary project space in Berlin Gesundbrunnen run by Silva Agostini, Dirk Bell, Mariechen Danz, Sarah Schönfeld, Nils Peterson, Anna Zett
—
As an entry point to the magazine we would also like to point out Michele di Menna's exhibition: The bells put out their tongues at Beach Office, Leipziger Str. 61/62, two days earlier, on Friday, January 11th.
Für eine Art Vorschau auf diese Ausgabe wollen wir auch auf Michele di Mennas Ausstellung: The bells put out their tongues, hinweisen, die am 11. 1. 2019 um 19:00 in Beach Office, Leipziger Str. 61/62 zu sehen sein wird.