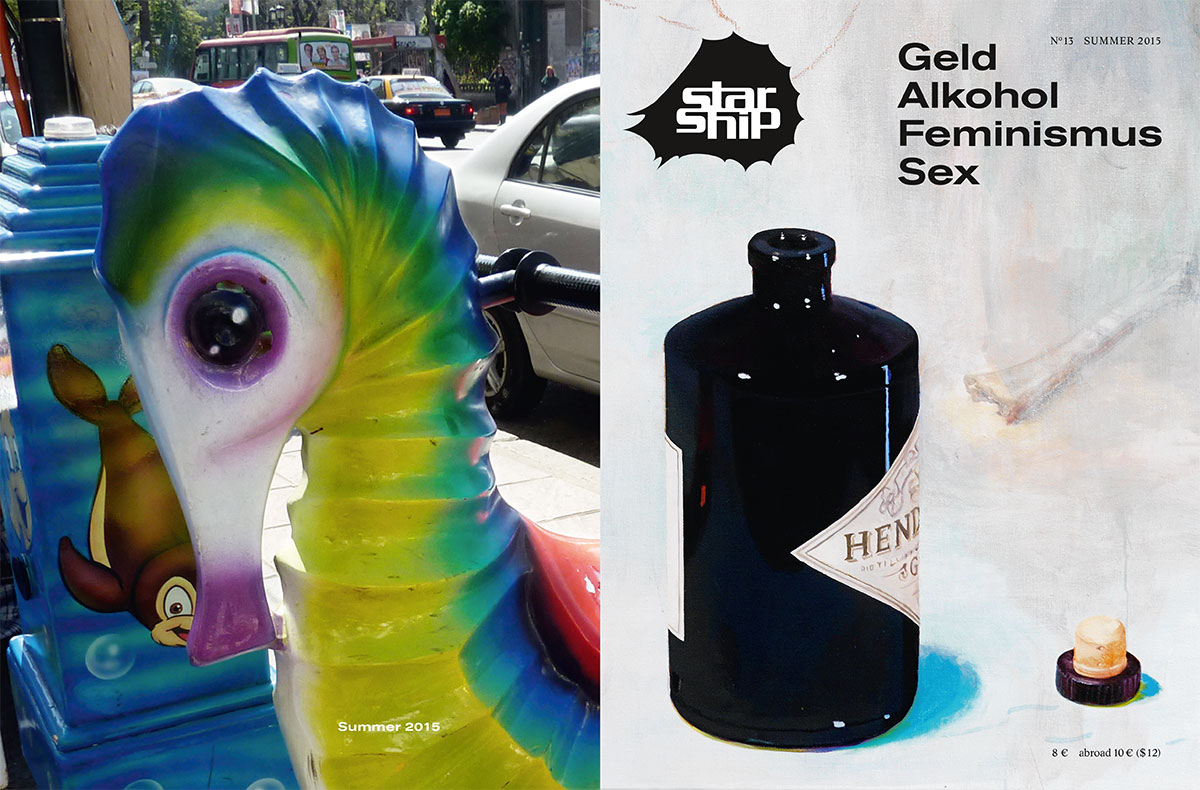 Starship 13: Summer 2015

Magazine Launch: Artists Space Books & Talks, NYC
Thursday, July 2, 7 – 11pm
Artists Space Books & Talks
55 Walker Street
New York
NY 10013
Building on 16 years of experience in publishing, Starship still provides unexpected turns and novelties. Issue no. 13 is the second under new editorship as well as in its more regular format of publishing twice yearly. Starship is a magazine that wants to exhibit artistic production rather than talk or write about artists and exhibitions. We want to present works and/or texts that emerge while thinking and producing. Starship is what lies in the German word Zeitschrift, wherein the word Zeit (time) emphasizes publishing that speaks out of, and about, the time in which it is made.
Something like a theme has always evolved through conversations with friends and people we admire, and those we invite to contribute; not so much with the aim of creating an audience, but to create a relation between the contributions and contributors in the issue. This means Starship is multivocal, and the direction the texts and pictures takes has no clear, predefined conception invoked by the editors toward their readers.
For this issue it turned out to be alcohol, sex, feminism, and money.
Contributors to Starship 13:
David Antin, Julie Ault & Lucy R. Lippard on Nancy Spero, Monika Baer, Lars Bang Larsen, Tenzing Barshee, Gerry Bibby, Matthew Billings, Richard Birkett, Robert Bittenbender, Mercedes Bunz, David Bussel, Enzo Camacho, Lou Cantor, Jay Chung, Hans-Christian Dany, Liz Deschenes, Nikola Dietrich, Francesca Drechsler, Martin Ebner, Marte Eknæs, Rainer Ganahl, Karl Holmqvist, Chris Kraus, Jakob Kolding, Greer Lankton, Amy Lien, Ilya Lipkin, Mathieu Malouf, Robert McKenzie, Ariane Müller, Christopher Müller, Henrik Olesen, Monika Rinck, Ulla Rossek, Max Schmidtlein, Tobias Spichtig, Vera Tollmann, Peter Wächtler, Scott Cameron Weaver, Amelie von Wulffen, Stephanie Wurster, Florian Zeyfang
Starship 13: Summer 2015
136 pages, German/English, color/bw, 205×268 mm
edited by: Nikola Dietrich, Ariane Müller, Martin Ebner, Henrik Olesen
Cover image: Monika Baer
Design: Dan Solbach, with Katerina Trakakis
Single copy: EUR 8, abroad EUR 10 (USD 12)
ISBN: 1619-2052

Presentations by:
Monika Baer, Robert Bittenbender, Stephan Dillemuth, Marte Eknaes, Morgan Fisher, Julian Göthe, Judith Hopf, Jakob Kolding, Sam Lewitt, Amy Lien & Enzo Camacho, Kirsten Pieroth & Karl Holmqvist, Sam Pulitzer, Gunter Reski, Ulla Rossek, Nora Schultz, Heji Shin, Nancy Spero (selected by Julie Ault), Florian Zeyfang (with Lisa Schmidt-Colinet and Alexander Schmöger)
With the editors: Nikola Dietrich, Ariane Müller, Martin Ebner, Henrik Olesen
Music by: Marie Karlberg