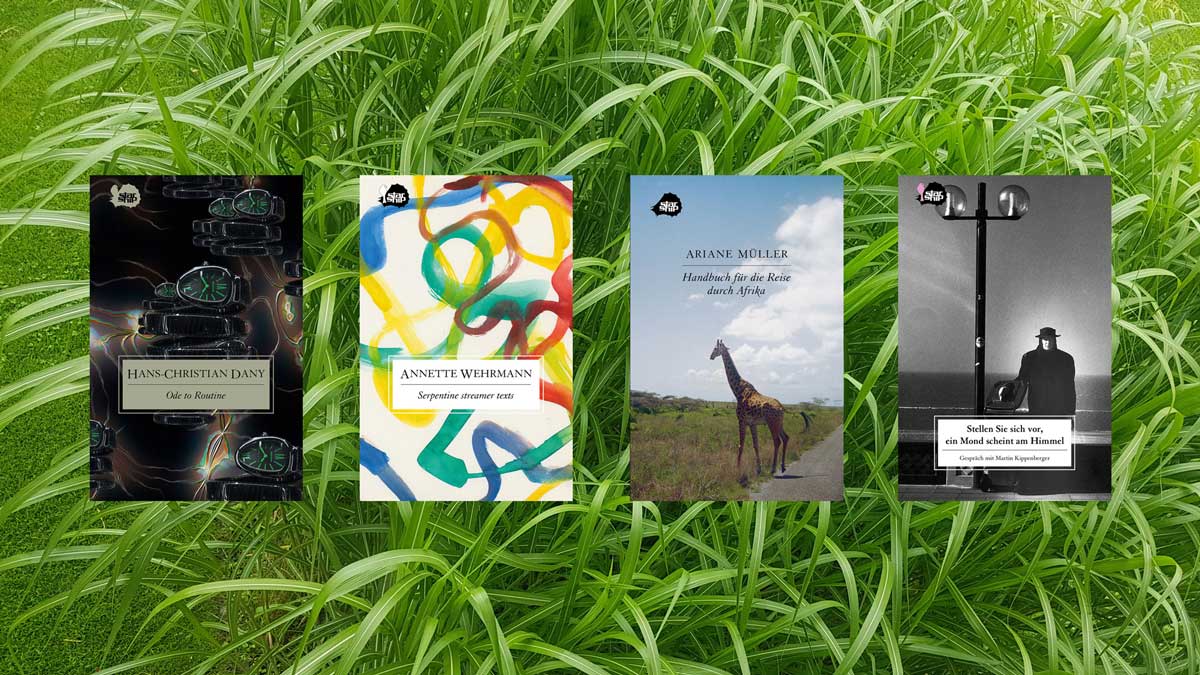 During the last months noticing that we liked books we decided to print new ones, and reprint the old ones that were not available anymore. Now we would like to invite you to the presentation of these four new books at
Hopscotch Reading Room
Kurfürstenstrasse 14, 10785 Berlin
Sunday, September 6, 2020
4-8 p.m., outdoors
They are:

Annette Wehrmann
Serpentine streamer texts
72 pages, ISBN 978-3-9817229-4-9
Annette Wehrmann's thoughtful and funny diary style texts. Originally conceived to be performed by reading these texts, typed on serpentine streamers and blown through the space, while following these interweaving lines. On the occasion of Annette Wehrmann's exhibition at KW Institute for Contemporary Art the texts were translated into English by Carrie Roseland, and now are published by Starship Verlag and Ort des Gegen e.V.
Hans-Christian Dany
Ode to Routine
56 pages, ISBN 978-3-9817229-5-6
An English-language compilation of essays by Hans-Christian Dany, author of several books in German, and many contributions to international art-journals. Ode to Routine brings together seven recent essays, wandering off the streets into demonstrations, exhibitions or gambling parlors. This translation is also done by Carrie Roseland.
Again available at Starship Verlag are now
Ariane Müller
Handbuch für die Reise durch Afrika
208 pages, ISBN 978-3-9817229-6-3
Originally published in 2013 by the Museum for Gegenwartskunst, Basel, and out of print for some years, the second edition of this novel brings a freshly edited version of Ariane Müller's fictionalization of the 20 years, she spent working for the UN-organisation UN-HABITAT, based in Nairobi.
Stellen Sie sich vor, ein Mond scheint am Himmel
Gespräch mit Martin Kippenberger
80 pages, ISBN 978-3-9817229-7-0
The reprint is the original German version of this hilariously funny and wise conversation that had been recorded in 1992 for the art magazine ArtFan is now in its 5th edition. An English translation by Micah Magee is available at Starship Verlag as well.