Works by Judith Hopf, Christoph Keller, Henrik Olesen, Gunter Reski, Nina Rhode, Nora Schultz, Till Sperrle, Tobias Spichtig, Suse Weber, Annette Wehrmann and Florian Zeyfang.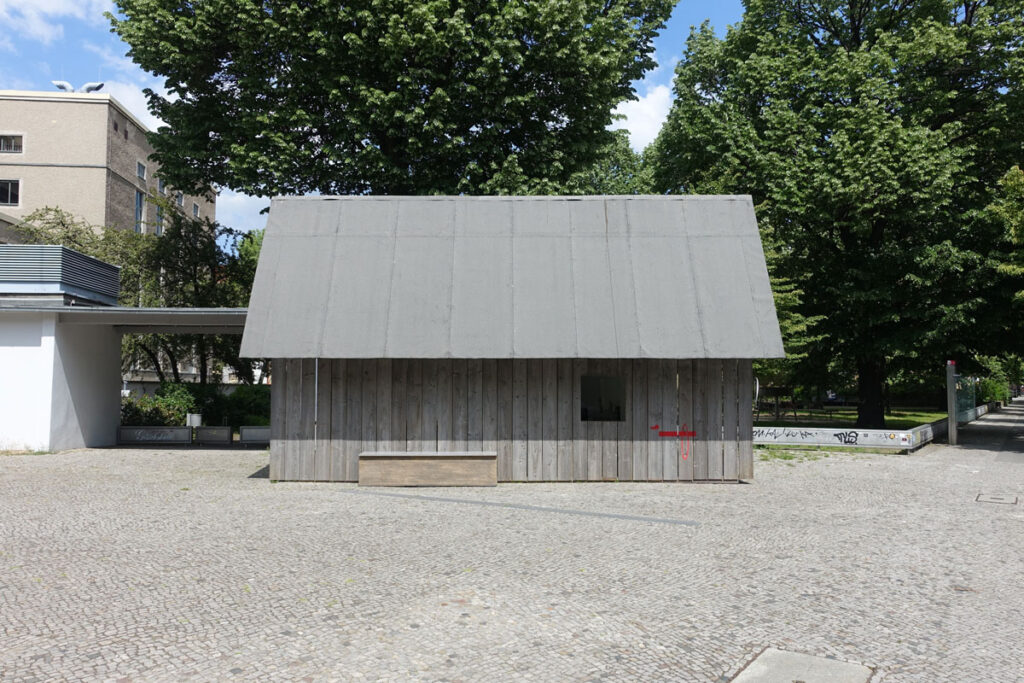 Starship: The Near Future
LVX. Pavillon der Volksbühne Berlin
15.3.2019, 19:00–24:00
Live at Grüner Salon:
19:00 Sir Henry and Herman Hermann,
22:00 Egill Saebjörnsson
VOLKSBÜHNE BERLIN
Linienstrasse 227, 10178 Berlin
Duration of the exhibition: 16.03. – 16.06.19
Thursday-Sunday, 2pm-8pm
An installation by Ariane Müller and Martin Ebner

with works by

Judith Hopf, Christoph Keller, Henrik Olesen, Gunter Reski, Nina Rhode, Nora Schultz, Till Sperrle, Tobias Spichtig, Suse Weber, Annette Wehrmann and Florian Zeyfang.
The glass pavilion next to the Volksbühne is a small star, but its light shines bright. It is the boat floating alongside the theater tanker. Between its periods as a bookstore, a ticket office, or standing empty, it was time and again run as independent exhibition spaces. Beginning in March 2019 it receives one more new coat: from now on a fixed venue of the Volksbühne named LVX and curated by Elodie Evers, work by visual artists and collectives will be exhibited regularly. As opposed to the monumentality of its surroundings, the pavilion's transparent lightness points to the historical open architecture typical of DDR urban planning in the sixties. Thanks to its practically see-through appearance, it is a public object per se, intended primarily for passing pedestrians. It will be launched by the Berlin-based art magazine Starship with a look back to the future: Founded in 1998 in Berlin-Mitte, Starship exists by now for more than twenty years. In its first issue, it used six key phrases to describe the environment in which it operated: "experienced self-organization"; "halfway drafted life models"; "passing economy"; " exhibitable introspection"; "ample contacts" and "art?"
Fotos: Halina Kliem
Twenty years later, Starship continues to produce the magazine, but also looks back on a long life-span as an exhibition organizer, publisher, and producer. Within the current editorial board — which includes Gerry Bibby, Nikola Dietrich, Martin Ebner, Ariane Müller, and Henrik Olesen — Ebner and Müller had originally founded the magazine, together with Hans-Christian Dany and Gunter Reski. For the exhibition at the Volksbühne Pavilion, they have visualized Starship and invited works by artists that have been in the memory or storage of the magazine for varying lengths of time. Seen in terms of theories of relativity, as material objects, they are potential kinetic energy, and therefore, together with their authors, they are the virtual operating power of Starship, which has always also consisted of publishing what it understood as the current and new within its time. The magazine Starship has existed in the near future for twenty years. In its exhibition at LVX, it takes the form of a barn. This is not only because the area around the Volksbühne is known as "Scheunenviertel" (Barn District), but also because this is the shape the Starship builders have developed for their spacecraft as the most economical and suitable for everyday life. In this form, Starship can function as a 'magazine' in its meaning as storage, but its parallel function as a spaceship facilitates movements in various time-relative relations. Either way, the barn and the spaceship are a kind of shell for everything they transport; its builders are the Volksbühne workshops.
Curator: Elodie Evers
Curatorial Assistance: Adela Yawitz
Construction Engineer: Sascha Gierth
Construction Manager: Simon Behringer
Technical Director: Stefan Pelz
Fabrication: Volksbühne workshops
Video Engineers: Jens Crull, Mathias Klütz

The exhibition is funded by Senatsverwaltung für Kultur und Europa.
On March 22nd Starship presents a screening of Larry Gottheim's 1971 Structural film Barn Rushes as well as Klaus Weber's Das Witzetape ('the Joke-tape'), which the Berliner artist made in 1995.